CP-Lab.com proudly presents Password Manager eXtra Protection - a program designed for working with passwords and other confidential information (Windows 10 and 11 compatible).

Password Manager eXtra Protection (XP) is a program specially created to help people systematize and store securely valuable information. It rids computer users of headaches caused by lost passwords, forgotten access codes and other sensitive information. With this program, you safely store all your logins, passwords, PIN codes, credit card numbers, access codes, files, and any other confidential information in one place.
Password Manager XP allows you to create several databases for storing desired information. Each database has its own access password and is encrypted with the algorithms of your choice. This means capability to apply several different encryption algorithms at a time, which significantly increases protection against unauthorized access of your data. Besides, the program comes with an option to automatically exit databases when idle for a set period of time, which decreases the likelihood of stealing your data when leave your computer with application running (for example, you have been distracted by other things or simply forgot to quit the program).
In addition, you can create passwords databases at shared resources and access them from multiple computers across the network. Removable devices Wizard will help you to install our password keeper to any removable media such as USB flash drives. You can run the program and work with password databases directly from a removable device.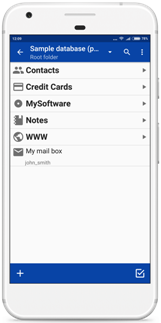 Our multi-user password manager is ideal for enterprise, business, teams, workgroup, family use. The program lets several users get access to the password databases. Importantly, access rights and privileges can be regulated. All changes inside the database are logged, giving the system administrator complete control over the users' actions.
Quite frankly, our application can considerably simplify your work with the Internet and usual Windows applications. It can autofill web pages, registration forms, logon windows, etc. This feature is compatible with Google Chrome, Microsoft Edge, Mozilla Firefox, Opera and majority of usual Windows applications.
You can install Android version to your smartphone and access your data easily when your laptop or desktop PC is not available. Our program installed on your smartphone allows you to keep your data secure and right in your pocket.
Our password storage software has a built-in customizable password generator and comes with a user-friendly interface that is easy to navigate and adjust.
Features:

Exceptionally high security level


support of the following encryption algorithms (can be used together): Blowfish, 3DES, Rijndael, Tea, Cast128, RC4, Serpent, Twofish;

no unencrypted temporary files ever created;

memory blocks are cleared when no longer needed;

built-in password generator;

Multi-user password manager


concurrent write access to a database for multiple users;

support for multiple databases;

ability to access passwords databases from multiple computers across the network;

adjustable user privileges per given database;

permissions can be set for folders or even individual records;

NT authentication support;

logging of all data changes;

users' actions logging (Professional / Corporate edition only);

Other features


database and folder fields can be fully customized. It is possible to add/modify/remove fields for individual folder or entire database;

autofill & form filler functionality. Currently it works in Microsoft Edge, Mozilla Firefox, Google Chrome, Opera, Microsoft Internet Explorer and most of ordinary Windows applications;

files can be attached to database records;

support of system wide hotkeys;

printing and ability to create custom print templates;

ability to store passwords databases and the program itself on the removable devices such a USB flash drives;

synchronization of databases via Cloud (Google Drive or Dropbox);

backup and restoring of passwords databases;

export and import to/from CSV and TXT files;

ability to check for the expired passwords on Windows start;

program can be minimized to system tray;

information sorting options;

local synchronization of databases;

handy and easy adjustable interface;

multilingual user interface (English, German, French, Italian, Spanish, Dutch, Swedish, Norwegian, Lithuanian, Chinese, Korean, Danish, Czech, Slovak, Slovenian, Hungarian, Greek, Croatian, Polish, Portuguese (Brazil), Hebrew, Turkish, Farsi, Romanian, Russian, Ukrainian).
Attention! Make sure you store the password to your databases in a safe place. Do not lose it! Our software has no backdoors or masterkeys. Should you lose or forget your password, there is nothing we can do to help you gain access to your data, since the program employs strong encryption algorithms that make hacking or password picking impossible.

Our application is spyware and adware free, and contains no trojans or viruses. You can hire independent experts to analyze our software to confirm this fact and to get an unbiased conclusion about software's encryption level. Our reputation is based on the products we release. That's why we put extra efforts in making our software very dependable and user-friendly, features that our customers praise our products for most often. Our software solutions are used by hundreds of companies all over the world.
The application supports the following encryption algorithms:
Encryption algorithm

Hash algorithm used to
generate encryption key

Encryption key length

3DES

SHA

160 bit

Blowfish

SHA-384

384 bit

Cast128

MD5

128 bit

RC4

SHA-512

512 bit

AES-256

SHA-256

256 bit

Serpent

SHA-256

256 bit

Tea

MD5

128 bit

Twofish

SHA-256

256 bit