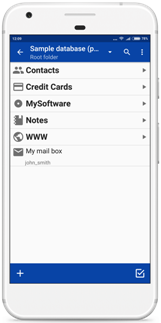 Password Manager XP is currently available for Android. You get the full strength of the desktop based Password Manager XP on your smartphone. Our program supports the same database format and same key features as the desktop version.

The Cloud synchronization makes it easy to share data with Password Manager XP running on different operating systems (Android, Windows).

NOTE: It is needed to purchase the Premium upgrade for Password Manager XP for Android in order to be able to synchronize data with the desktop version of Password Manager XP.
Features:

the same database format as in desktop version;

strong AES-256 encryption for data;

built-in password generator;

support for multiple databases;

files can be attached to database records;

backup and restoring of passwords databases;

synchronization with desktop via Cloud (Google Drive or Dropbox);

database and folder fields can be fully customized. It is possible to add/modify/remove fields for individual folder or entire database.